Released on 4 November 2014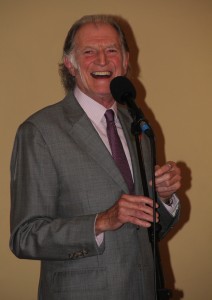 Actor, David Bradley, gave a rousing speech at a Stratford-upon-Avon Town Hall reception at last week's Friends of Shakespeare's Celebrations Launch Reception (30 October), when he urged guests to consider the importance of William Shakespeare in their lives.
The distinguished, BAFTA winning actor, who is popularly known for his role as Argus Filch in the Harry Potter series of films, spoke to a packed Town hall of guests from across the Stratford-on-Avon District's community, business and cultural communities.  The high profile event launched The Friends of Shakespeare's Celebrations, a recently formed initiative, established by Stratford-upon-Avon Town Council and Stratford-on-Avon District Council, co-hosting the event, to ensure the future of Stratford's Shakespeare's Birthday Celebrations.
Mr Bradley gave an inspiring and amusing account of how he was first introduced to Shakespeare, through a youth drama group and the way in which the poet, "not of an age, but for all time,"* has played such a significant role in his own life and career.  His speech led guests to consider the importance of Shakespeare to all Stratfordians and the need to sustain and develop Shakespeare's Birthday Celebrations, a globally significant keystone in the town's heritage.
*Ben Jonson
The purpose of the event was to promote newly created opportunities for local people, businesses and  organisations to get involved and be appropriately recognised for their support.  Businesses, Community and Educational organisations can display their logo or message on promotional flags and pedestrian rail banners, which will be lining Stratford's streets during the traditional Shakespeare's Birthday Parade.  Businesses are also being invited to support particular elements as Corporate Partners, including the Shakespeare's Giant Birthday Cake, which played such a prominent part in this year's procession.
Meanwhile, loyal residents and visitors are being invited to become a Friend of Shakespeare's Celebrations, by contributing financially or volunteering to be Stewards, Marshals or Playmakers, who were introduced this year to welcome and give information to people attending the festival.
"The evening was memorable," said Mayor of Stratford-upon-Avon, Cllr. Ian Fradgley, "It was a privilege to hear David Bradley address the event with such a personal tribute to Shakespeare.   David has also accepted our invitation to become a Patron Artist of Shakespeare's Celebrations and we are delighted to announce that acclaimed Shakespearean actress, Dame Janet Suzman has also accepted our invitation to join him in this role.  We are hoping to announce a further eminent Patron Artist, over the coming weeks."
Goodwill from community figureheads was in abundance, during the evening. Stratford-upon-Avon Town Clerk, Sarah Summers declared the need to preserve Shakespeare's Birthday Celebrations "a no brainer" and pledged her immediate Friend of Shakespeare's Celebrations membership, while Rev. Dr. Paul Edmondson, Head of Knowledge and Research at The Shakespeare Birthplace Trust, who wasunable to attend the event, sent a goodwill message, confirming that he, too, has become one of the initiative's first Friends.**
**To become a Friend please visit www.shakespearescelebrations.com
The informative evening was set against a programme of music, from the distinguished and locally based ensemble, English Serenata, directed by flautist, Gabrielle Byam-Grounds and Stratford-upon-Avon School students who entertained guests with a selection of guitar-accompanied duets.
"We do believe that our guests left the launch, entirely committed to the idea that our community must do everything it can to help with plans to fund and secure Shakespeare's Birthday Celebrations for the future," added Cllr. Maurice Howse, Stratford District Council's Portfolio Holder for Enterprise, Housing and Revenues.  "It's no exaggeration to say that anyone who lives and works in Stratford benefits directly or indirectly from the town and District's connection with William Shakespeare and Shakespeare's Birthday Celebrations reminds the world each year of this unique selling point."
Meanwhile, organisers are counting down the days, from the launch event to next year's Shakespeare's Birthday Celebrations Parade on 25 April, 2015.
Shakespeare Celebrations Partners:
Holy Trinity Church
Stratford-on-Avon District Council
Stratford Town Trust
King Edward VI School
Stratford-upon-Avon Town Council
Royal Shakespeare Company
Shakespeare Birthday Company
Stratforward
Shakespeare Birthplace Trust
Shakespeare's Celebrations is a recent initiative, between Stratford-upon-Avon Town Council and Stratford-on-Avon District Council.  It is dedicated to leading the world in celebrating William Shakespeare's life, through developing the traditional and globally recognised Shakespeare's Birthday Celebrations in his home town of Stratford-upon-Avon.
Shakespeare's Celebrations and its partners are committed to ensuring that the Celebrations will continue to take place from next year and beyond, so that Stratford's unique heritage will benefit the town and district's communities and economy for many years to come.  If this is to happen, it is essential that the festival  becomes sustainable and  independent of public subsidy.
The traditional Birthday Celebrations, which date back to 1824, are always held in Stratford over the weekend closest to the Bard's birthday on 23 April (also believed to be the date of his death).
The Birthday Parade is a spectacle of worldwide and local dignitaries, community groups and schools, alongside prominent figures and well-known faces from the worlds of theatre, academia and culture.  Ceremonies include the unfurling of more than a hundred flags in Stratford's town centre, followed by a procession into Holy Trinity Church to see Shakespeare's grave, adorned with flowers.
Contact details
For further details contact
Val Harris
Development Manager
Shakespeare's Celebrations
Stratford-on-Avon District Council and Stratford-upon-Avon Town Council,
Elizabeth House,
Church Street,
Stratford-upon-Avon
Warwickshire CV37 6HX
Tel: 01789 260645
Mobile: 07969 323313
email: val.harris@shakespearescelebrations.com